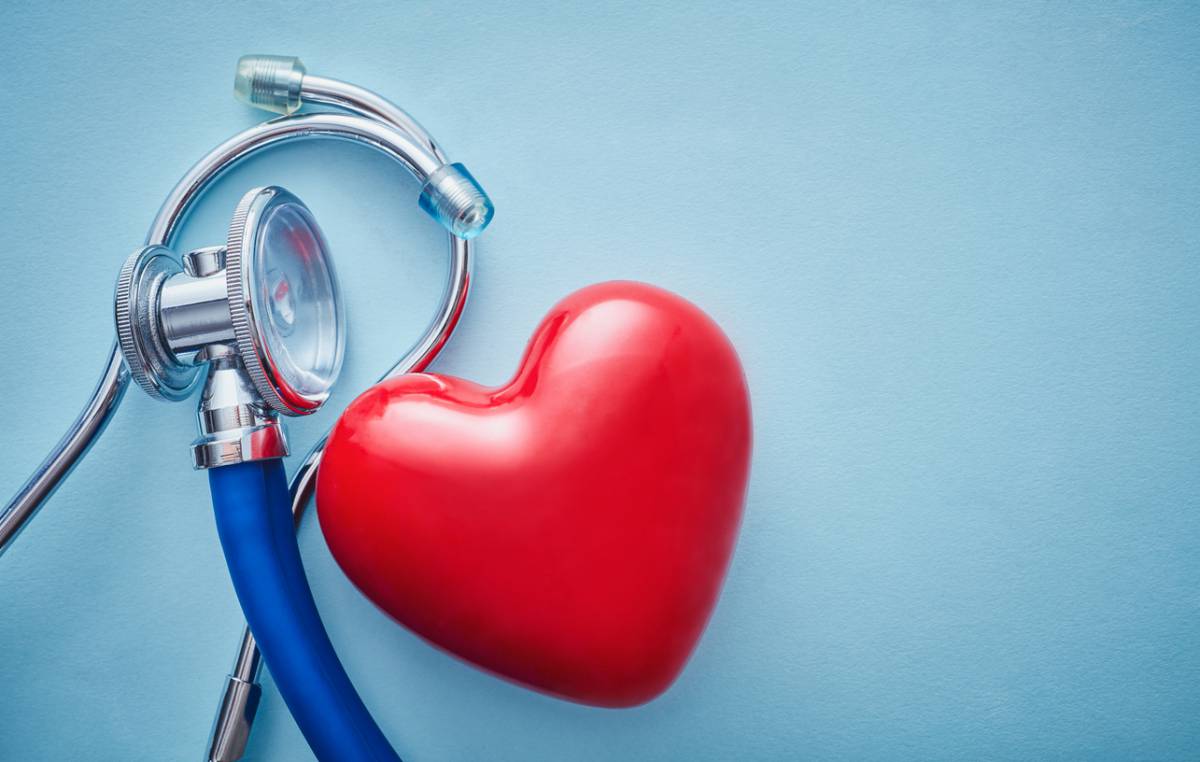 Cardiac telemedicine, CHART device arrives that detects 95% of all heart diseases
CE-marked approval could change the work of specialists and allow them, at the end of the pandemic, to manage the wave of new heart patients

After fifteen years of work and CE Mark approval, the Cardio-HART™ or CHART revolutionary cardiac diagnostic device has arrived on the market. Just in time to address all Covid-19 associated heart disease and help reduce long waiting lists.
A propitious time now that medical systems are under unprecedented stress and facing the need for a reorganization of primary care services, in which telemedicine will play a role as central as ever. Even after the emergency is mitigated, the legacy of pandemic-related heart disease will be an additional problem for years to come.

New heart disease care driven by telemedicine
The gap between primary care and cardiac care, the next level of care, has always been a major unmet medical need, tolerated only because of the lack of an effective, easy-to-use medical device that could help bridge the gap. At 44% effective, traditional ECG/EKG devices were simply never effective enough before the pandemic and will be virtually useless in a post-pandemic telemedicine environment.
Effective Cardiac-Telemedicine™ will need to have two main conditions:
first, support telemedicine, allowing the physician to easily access and understand a patient's cardiac diagnostic test online; and
second, be highly effective, providing comprehensive diagnostic information about the patient's condition, far beyond that of traditional pre-pandemic ECG/EKG devices.

What it is CHART?
CHART, short for Cardio-HART™, taps into this very need. It combines a device to capture the heart's physiological biological signals and a cloud-based AI-based diagnostic analytics engine to ensure high levels of cardiac diagnostic efficacy and transform primary care into the new frontline of heart care.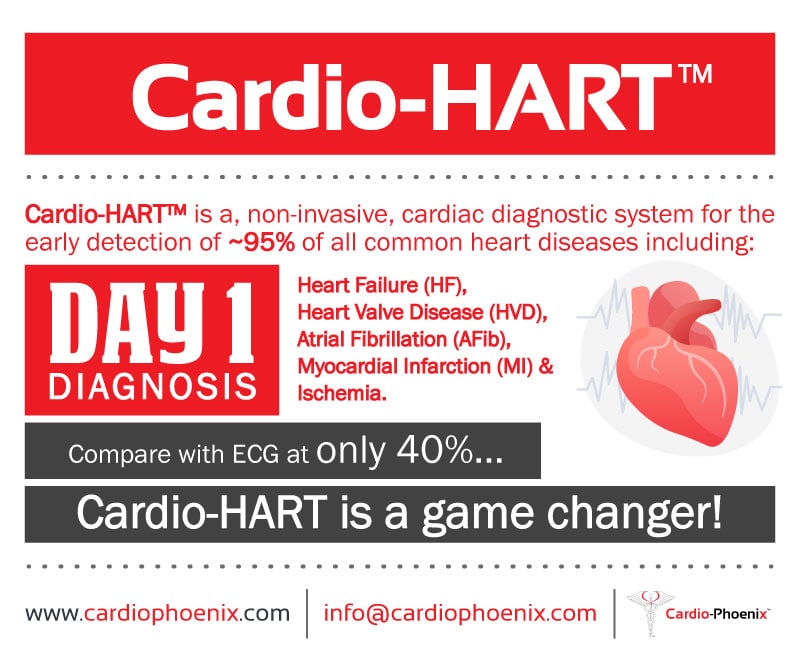 CHART can detect and diagnose 95% of all significant and common heart diseases, by prevalence. Compared to ECG's 44%, that's a magnitude of the difference in effectiveness. CHART's revolutionary technology can detect cardiac conditions normally only diagnosed by a cardiologist using echocardiography, including:
14 critical HART [1] (ECHO) findings, including:
LVH, DCM, RVE, LAE, RAE, Ischemic WM, LVSD, LVDD,
AS, MS, AR, MR, TR, TR w/PH, and more....
The 22 common and significant ECG findings, including:
MI, ST-T dev, LVH, RVH, AF, AFl, ST, SB, IVCD, Long PR, Long QT,
LBBB, RBBB, LAFB, LAX, RAX, PVC, PAC, and more...
Plus, many PCG and MCG results, including:
Heart murmurs,Systolic & diastolic, S1, S2, S3 & S4 (the sounds of the heart),
EMAT, PEP, LVET, SPI, S1-Wide, and more....
How it helps healthcare professionals
An essential element of CHART is the role it plays in helping healthcare providers understand when to refer their patients to the cardiologist and in providing the cardiologist with relevant information about the patient's condition to guide clinical decisions about testing and treatment. Truly collaborative triage between cardiologist and health care provider.
CHART's broad range of disease outcomes creates a "better patient" based on an acceptable medical justification that supports referral to the cardiologist.
In a recent clinical trial of more than 560 patients, primary care physicians increased their diagnostic efficacy by approximately 250% over state-of-the-art ECG/EKG systems using CHART. This resulted in a 24% reduction in FN and a 14% reduction in FP.
CHART will help ensure that affected patients are not left behind, forgotten, and neglected, in the shadow of Covid-19 or its second wave. It is a very cost-effective technology that will ensure that more patients have greater access to the best cardiovascular diagnostic services.

Original text:
Italy