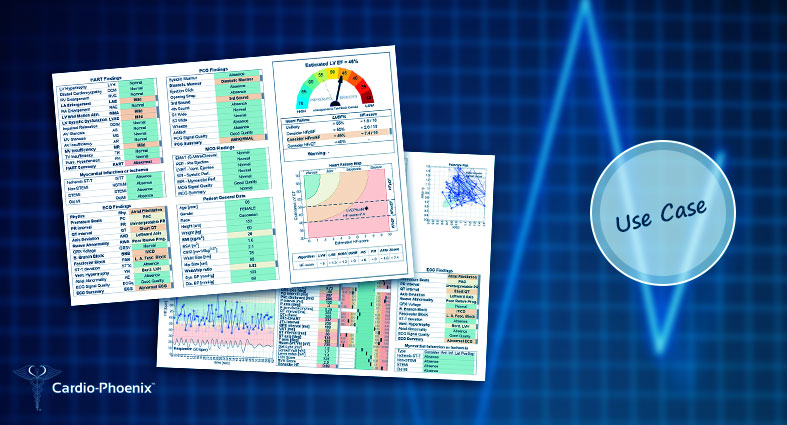 Abnormal ECG confirmed by HFmrEF prediction by HART-finding
Situation
Symptomatic female patient of 59 years, 153cm, 60kg, recorded with CHART in heart failure clinic to discover type and severity of the heart failure.
Clinical Information: Type 2 diabetes NIT, ischemic cardiomyopathy with low LVEF, AF Comorbidities. Allergic rhinitis; Left shoulder surgery; Covid19
Disease Modifying Pharmacological Therapy Sacubril/Valsartan 24/26 mg in the morning and 49/51 mg in the evening; Bisoprolol 5 mg + 5 mg; Spironolactone 12.5 mg; Dapagliflozin 10 mg/day. Target doses achieved: No, in titration made difficult by symptomatic hypotension and worsening renal function.
Other Drugs Furosemide S.O.S.; Lixiana 30 mg; Sertraline 50 mg; Omeprazole 20 mg; Atorvastatin 80 mg; Ezetimibe 10 mg; Bezafibrate 200 mg (stock break); Allopurinol 100 mg; Tranxene 5 mg; Oral magnesium; Avamys; Semaglutide 1 mg /week; He took iron carboxymaltose 1000 mg + 500 mg (last administration on 10/22/19); Digoxin 0.125 mg. DECI: Abbott Ellipse VR single-chamber ICD implantation (Abbott electrode) on 06/05/20
CHART Report Interpretation
HART-Findings and HF prediction
Abnormal HART summary:
Mildly enlarged left atrium (LAE)
Wall motion abnormality with mildly reduced LVEF (WMA, LVSD)
Mild mitral regurgitation (MR)
HF prediction:
Estimated LVEF = 46%, HF-score = 7.4/10
Consider HFmrEF
ECG
ECG is abnormal: Atrial fibrillation, Short QT, poor R wave progression, IVCD, LA fascicular block with borderline leftward axis, borderline LVH. The ECG-based HF prediction is 69% (see the last ECG Global Measurement).
ECG suggest heart failure, but did not indicate type of HF.
PCG
PCG shows diastolic murmur with 3rd sound.
MCG
MCG systolic time intervals shows normal intervals, which rather suggests normal systolic function. However the PCG based systolic time intervals measures prolonged PEP and EMAT.
Decision Support
In case of primary care, CHART decision support suggests send this patient to cardiology for further diagnosis and treatment with immediate priority.
Echocardiographic Results
Dilated heart disease (LVIDd=60mm, LVMI=87g/m2). Global biventricular systolic dysfunction slight (EF biplane=41%, EF Teichholz=46%)
Wall motion abnormality: diffuse hypokinesia.
Dilated left atrium (LAVI=40 ml/m2, RAVI=25 ml/m2).
PASP estimated at the upper limit of normality.
Mitral and Tricuspid regurgitation of I grade.
The patient heart failure is categorized as mildly reduced EF (HFmrEF).
Conclusion
The ECG suggest severe heart disease and suggest the heart failure, but not able to detect its category.
Patient has HFmrEF, which is correctly predicted by HART-findings, with correct LVEF estimation.
The ECG itself does not show significant ST change or any ischemic change (this is a rarer case), however patient has diffuse hypokinesia, and it was indicated as mild WMA by HART-models.
The dilated LV is missed by HART models, but borderline LVH by ECG suggest some structural problem.