The Positive Side of the COVID-19 Pandemic
It seems like anyone can talk about the COVID-19 pandemic. We have to agree it's worth talking about (and hard not to discuss). Still, most conversations tend to revolve only around fear of getting sick, sheltering in place, overcrowded hospitals, closings of all sorts, and lack of toilet paper. We´d like to propose a new conversation—one that revolves around the positive outcomes.
Of course, the number of people infected or who have died from the coronavirus increases daily. Yet, some good things have come out of the pandemic as well. Instead of focusing on all the negative news, let's focus on the positive and intentionally work to increase these positive effects as time goes on.
Positive Environmental Effects of the Pandemic
First and foremost, the pandemic seems to be having a positive effect on the environment. For instance…
The canals in Venice are cleaner, which has made it possible for fish and dolphins to enjoy the water. Maybe the fish were there before, but with all the sediment constantly churned around by boats and gondolas, no one could see them. The dolphins might have been there, too…but someone would have noticed…but now they are playing near the surface of the canals.
Obviously, there is a power in shutting things down for a bit. We allow the creatures of the earth to thrive once again.
Pollution in China has been reduced significantly. An image from NASA illustrates this dramatically.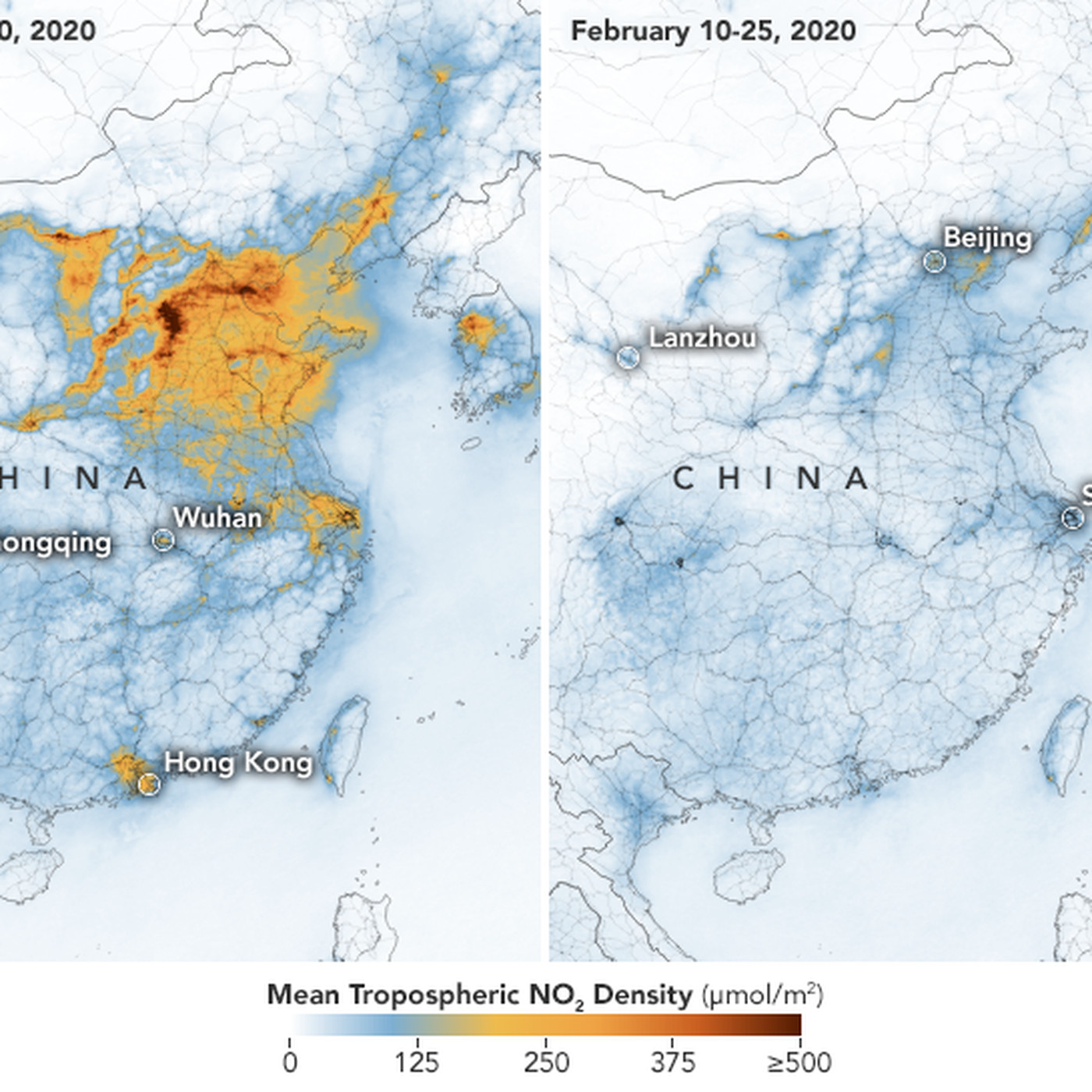 It is for sure that pollution has been reduced in most major cities around the world. That's what happens when you close manufacturing plants and stop driving so much.
Consider what would happen to the environment if we intentionally shut down plants and stopped driving for even a day every week—take a Sabbath—or for a week every quarter. Maybe we could slow down global warming.
Let´s hope to see that the pandemic improved our environment globally and helped heal Mother Earth.
The Positive Relational Effect of the Pandemic
Despite social distancing and being sheltered in place, some people feel more connected. Almost everyone is receiving more phone calls, text messages, and private messages on social media sites than before. People may be isolated, but they are reaching out more than ever both to old and new friends, family members, and colleagues.
And people are coming together as communities. Lately, on Facebook and other social media platforms, people is keeping updated on news and sale items, but these groups are now being used to coordinate efforts to bring groceries to neighbors who are unable to go to a store or in the highest coronavirus risk groups. Individuals, too, have offered to help others in any way possible.
Two incredible videos have circulated over the internet that gave the world a little window into how Italians, who are on lockdown, have come together in song. An entire street's worth of people joined together in a song from their windows.
Also, in our busy lives, we rarely take time to slow down, stay home, and go inward. We forget about our relationship with ourselves and what we believe. During these times, it is ideal to sit for reflection —if you shut out the noise. Yes, stay apprised of the news, but focus your attention inward and away from the chaos and negativity.
Additional Good Things to Come Out of the COVID-19 Pandemic
There's a ton of bad news out there right now…most of it related to COVID-19 pandemic. However, there's lots of good news out there to be found…if you go looking. For example, Sky.com listed these:
In Eastbourne, UK, hundreds of people signed up for a telephone befriending service to keep their community together.
Supermarkets have offered slots reserved for the elderly to make sure they don't miss out on essentials, and they are implementing online ordering and payment and curbside pickup. Some banks and other services are taking similar steps.
Plus, now, many thought leaders, experts, and healers step up to the plate with free programs, meditations, classes, Facebook Live events, Instagram challenges and much more. People are showing their goodness—being of service, helping raise spirits, and bringing people together.
Yes, we cannot keep the eye out of COVID-19 but we can share goodness, love and definitely spend quality time with the ones we love.
Stay safe, stay home!