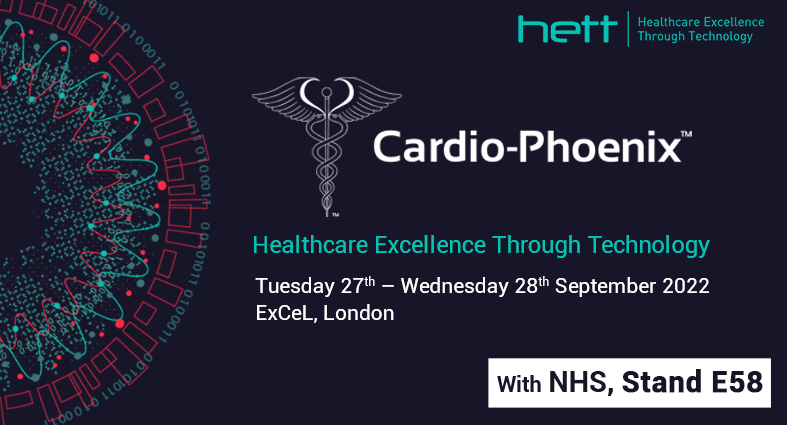 Cardio-Heart at HETT Show 2022
Our team at Cardio-Phoenix is excited to announce that we will be exhibiting at the Healthcare Excellence Through Technology (HETT Show) on 27-28 September 2022. This CPD-accredited event is the UK's leading health tech and digital health conference and exhibition, showcasing world-leading technologies and solutions in one space.
Register free to attend: https://hettshow.co.uk/
Uniting digital health professionals, HETT Show will include 5 CPD-certified theatres: Culture & Implementation, Digital Maturity Forum, Digitally Empowered Patients, Integration & Interoperability, and its latest addition, Infrastructure & Data Architecture.
Designed for the healthcare industry, by the healthcare industry, the agenda is curated to help healthcare professionals solve the most pressing challenges and showcase opportunities in the sector.
At the event, we will be showcasing Cardio-HART. The Cardio-HART is a cardiac diagnostic system for the early detection of Cardio-Vascular Disease, Heart Failure, and all Heart Valve diseases that aims to improve patient care through quick, non-invasive, timely, and accessible testing in clinical care settings, for use in clinical care settings, starting in Primary Care. Significantly, its capabilities extend to the early detection of CVD onset.
NHS recognized the importance of Cardio-HART and invited us to join them in such an important event, the Healthcare Excellence Through Technology Show 2022.
At stand number E58, the CEO and Founder of Cardio-Phoenix, Marc Bisnaire, and the representative of our marketing team, Bojan Milić, will welcome you.
Visit us on September 27 and 28 and learn more about CHART from our representatives.
*HETT Show is free to attend for those working in the NHS, independent healthcare provision, the care sector, the wider public sector, academia/research, and not-for-profit.
Your HETT Show complimentary pass will give you access to:
5 CPD-certified streams featuring 200+ expert speakers
Workshops, roundtables, and interactive breakout sessions
Networking opportunities via our free meetings tool; HETT Connect
Drinks reception at the end of day 1
The exhibition floor of 150+ innovative suppliers – where you can find us!
Click here to register for your complimentary pass. We hope to see you there!
Here are some useful links:
Agenda: https://hubs.la/Q01c5bn70
Speakers: https://hubs.la/Q01c5bTh0
Exhibitors: https://hubs.la/Q01c5cbj0
Networking: https://hubs.la/Q01c5ck_0
Register Free* Here: https://hubs.la/Q01c5f0r0